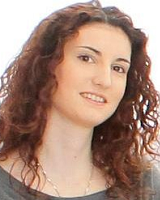 CV
She holds a diploma in Informatics and an MSc in Informatics and Management from the Aristotle University. On November 2017, she successfully defended her PhD thesis on the topic of "User Behavior Analysis on Social Web with Knowledge Discovery Techniques" at the Informatics department of Aristotle University of Thessaloniki.
Since 2010 she is a member of the Web/Internet data management research group (OSWINDS) at the Aristotle University of Thessaloniki.
Research Interests
– Web data mining, with particular interest in data streams and social network analysis.
– Natural Language Processing and text mining.
– Modeling methods for graph and network data.
– Sentiment Analysis and Affective Computing.
Links: Despoina Chatzakou, Ph.D.
Now at CERTH/ITI.
Contact Despoina Chatzakou at: deppych {[at]} csd {[dot]} auth {[dot]} gr